Schedule Your Siding Repair or Replacement Today
---
Few projects enhance the appearance and value of your home more than new exterior siding. At Four Seasons Contracting, Inc. we offer a broad range of materials and installation methods:
Vinyl Siding
Vinyl siding is the most popular choice for exterior finishes. With endless color options and styles, it is virtually maintenance-free if it is installed properly. Not all exterior vinyl siding products are equal, but Four Seasons Contracting, Inc. can help you choose a durable attractive product to meet your project's needs.
Fiber Cement
A relatively new product, fiber cement board is a durable and very low maintenance option that mimics the appearance of traditional wood treatments. It is produced from a mixture of wood fibers, sand, and cement and it installs like wood clapboard, shingles, or shakes. A cement-fiber exterior finish can be a great choice giving you a traditional look without the maintenance of natural wood.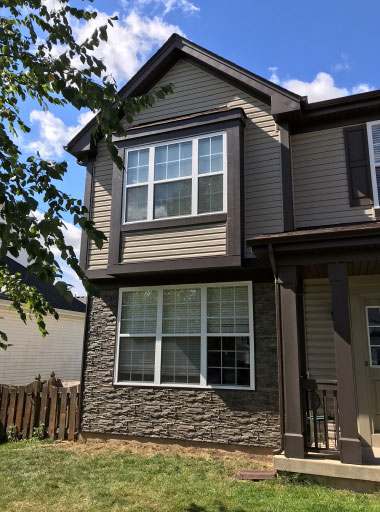 Wood Siding
Few people would disagree with the classic appearance of traditional wood clapboards, shingles or shakes. The timeless beauty of wood species like cedar, pine, fir or redwood is undeniable. Proper installation of wood siding, combined with the right exterior paint or stain finish will give you years of beautiful performance.
Metal Siding
Metal siding has evolved over the years into a popular low maintenance choice for new homes. If offers a modern style, and when properly applied will offer decades of protection. The most popular materials are aluminum or steel and come in a vast array of textures and shapes.
Schedule your Appointment